If the lights, wreaths, markets, trolley, Santa, elves, magic, and general holiday merriment in Edmonds this time of year weren't enough, the state's first designated Creative District has a whole host of timely shows on the docket that will add to your end-of-year cheer.
Keep your finger hovering over the refresh button on our Holiday Events site for last-minute additions, and start purchasing your tickets for these must-sees ASAP. From classics to contemporary interpretations of what we know to be true about the season, you'll find something for everyone in your crew here—and more.
It's a choose-your-own-adventure of artful holiday magic with these seasonally specific shows. Take us along to your favorites by adding #edmondsholidays to your posts!
A Nice Family Christmas, November 24-December 17
Allow us to set the scene: It's Christmas Eve and a young newspaper reporter about to be fired has been assigned a last-chance story about a typical family Christmas, which just so happens to be his family's Christmas. He goes home to his recently widowed mother, his crazy uncle, his eccentric grandmother, and his battling siblings and their neurotic spouses, who provide no shortage of material. Sound like something you know a little about? Even if you don't, you'll get lots of laughs out of this one. Grab your tickets for the Phoenix Theatre performance here, and be sure to invite your most eccentric family members along for the giggles.
Roald Dahl's Willy Wonka, November 24-December 17
Sugar plum fairies are sweet and so is Willy Wonka, so we're counting this as a holiday show because why not? It does include a few Christmas scenes, after all. Performed by the Edmonds Driftwood Players, this undisputable classic follows the play's eponymous candy manufacturer as he stages a contest by hiding golden tickets in five of his drool-worthy candy bars. Take it all in and reserve your spot here.
O Christmas Tea: A British Comedy, November 30
Here's what we all know to be true: Brits are just funnier, even when they're not trying to be. So, when they're putting on a comedy, we know it's going to be good. If you're a Monty Python fan, you'll cackle as you watch this performance ripe with wordplay, comic physicality, and cleverly crafted interactive elements. Get the group text going and send them this link for their tickets.
Christmas In Edmonds, December 2
Choir, orchestra, hope, and joy—you'll experience it all at North Sound Church's two showings of Christmas In Edmonds. Learn more and pick your preferred timeframe here.
Mark O'Connor's An Appalachian Christmas, December 4
Look forward to a mix of vocals and instrumentals from three-time Grammy-award-winning composer and fiddler Mark O'Connor. Not only will you hear fresh, playful takes on traditional songs with a few original compositions, but you'll also get to hear Mark's wife, Maggie O'Connor, on fiddle and vocals. Look for surprise guests, too! Reserve your date night—and your tickets—here.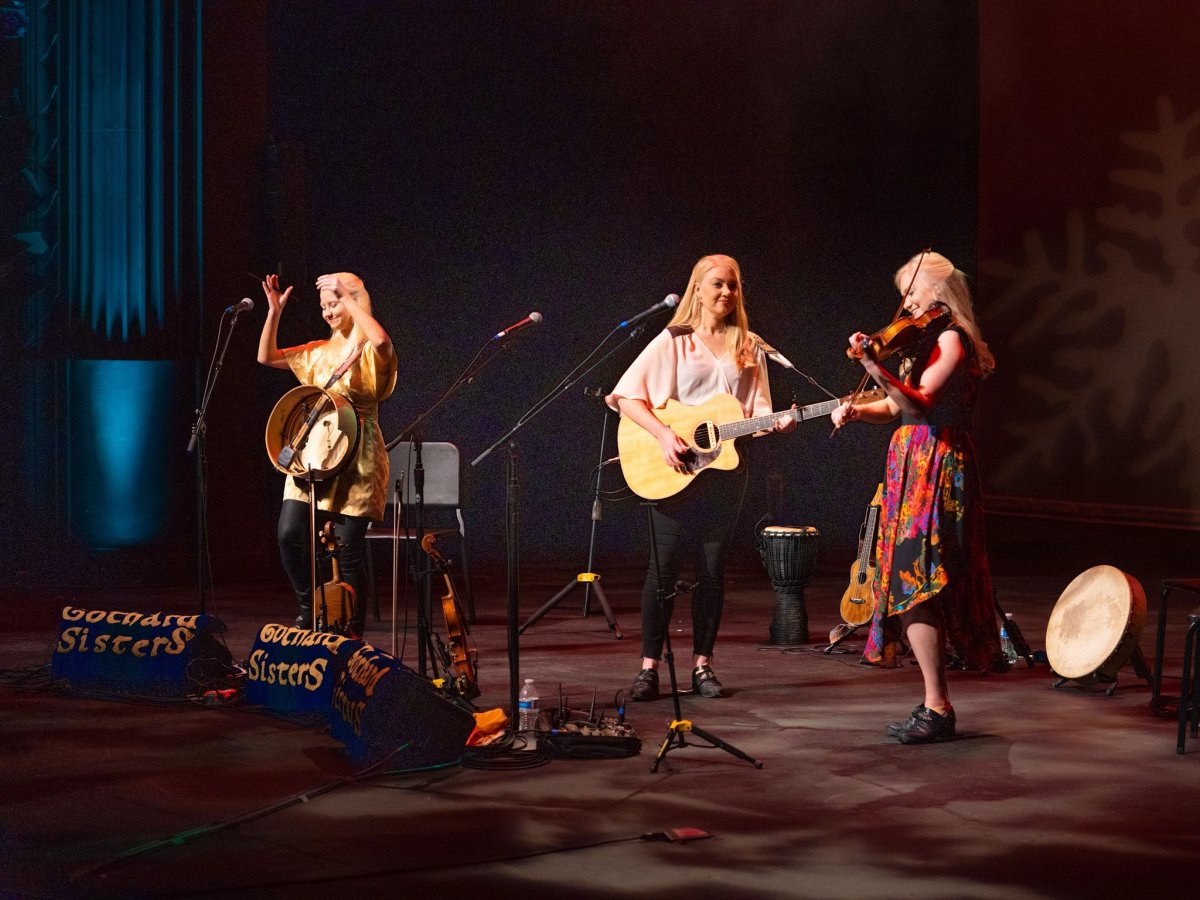 A Celtic Christmas with The Gothard Sisters, December 7
If we know anything about Celtic music, we know that it's high-energy, and with three sisters on the stage, it's sure to be a party. Bring your whole family to enjoy Christmas carols, Celtic tunes, Irish dancing, and more!
The Nutcracker, December 14-20
An enduring family tradition for many, Olympic Ballet Theater's production of The Nutcracker is choreographed by OBT's artistic directors Oleg Gorboulev and Mara Vinson, and features magical snowflakes, a dramatic battle, waltzing flowers, Tchaikovsky's original score, and the story as synonymous with the holidays as it gets. Check out the beautiful sets while you're at The Edmonds Center for the Arts and grab your tickets before they sell out.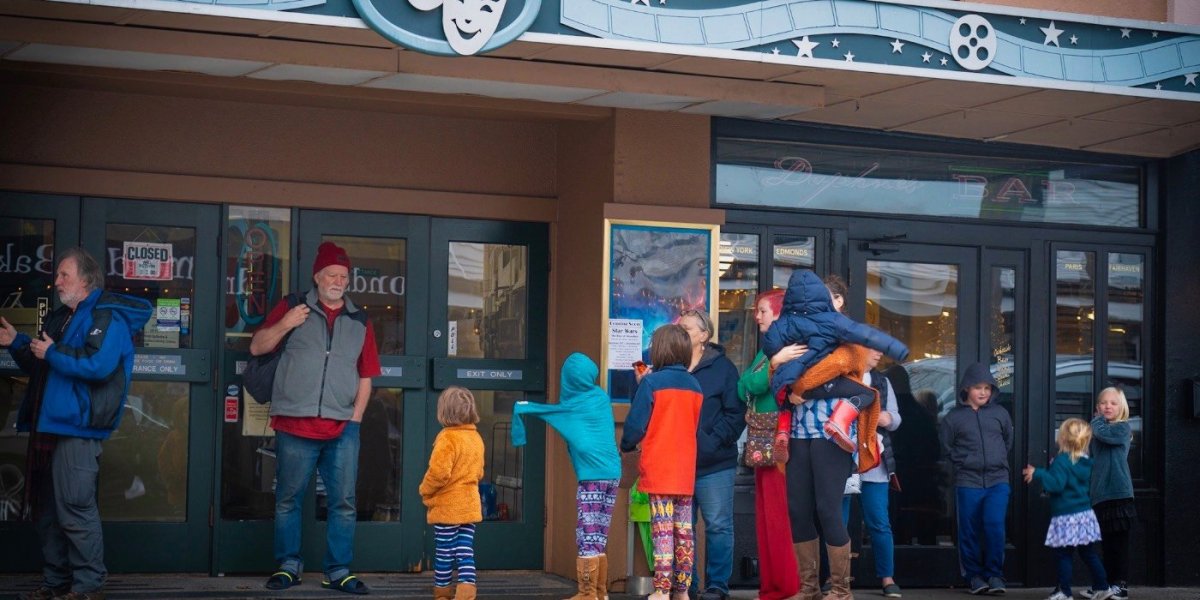 Free Holiday Movies at The Edmonds Theater, December 8 and December 15
On Friday, December 8th, bring the kiddos for cartoons at 3:30, followed by The Santa Clause at 5pm. On the 15th, come for cartoons at 3:30pm, followed by Elf at 5 p.m. Don't forget to purchase the theater's signature popcorn while you're there! These showings are all sponsored by Cline Jewelers, so if you're shopping in their brand-new space this season (and you should) be sure to thank them! And, if you want to donate to the theater, they'll gladly accept it.
National Lampoon's Christmas Vacation, December 21
Take in this Edmonds "Princess" Theater Throwback, which always offers what the kids call #relatablecontent, for chuckles and a break from your holiday prep. Find times posted on the theater's marquee and by the front door. Showing is technically free, and donations are gladly accepted.
White Christmas, December 22
Sponsored by the Edmonds Theater's next-door neighbor, Comstock Jewelers, this Christmas classic will bring holiday joy indeed. Find times posted on the theater's marquee and by the front door. Bring a few bucks to donate if you can.
Snow White by Grand Kyiv Ballet, December 27
We'd call this one holiday adjacent since it features a fair amount of snow and magic. Besides, it's a nice bridge between Christmas and New Year's to enjoy some beautiful art, isn't it? Based on the enduring fairy tale by The Brothers Grimm, this Ukrainian ballet of Snow White and The Seven Dwarfs takes the vibrant style of a Disney movie and sets it to the musical motifs of Polish composer Bogdan Pavlovsky. Think bright costumes, technical dance, and comedic acting that bring the classic tale to life. Plan your outing and snag your seats here.
See A Show or Three In Edmonds
Whew! You're going to be busy. There's nothing like the holiday season to bring extra magic with it. You deserve these beautiful breaks, so don't hesitate to take them. We'll see you in the audience, program or popcorn in hand.
Happy holidays!
Photos by Matt Hulbert