Beach towns are perpetually bustling, and that excitable energy skyrockets in the summer when the sun comes out and the PNW layers are shed. With a sea breeze and a general current of contended bliss dancing through the city, there's no better time than summertime in Edmonds to enjoy events centered around music. Plus, many of the city's warm-weather concerts are free!
Keep a cooler and your favorite camping chair in your trunk because your calendar is full of melodies that will keep you humming into the fall. From Taste Edmonds, one of our foundational festivals, to summer concerts all around the city, your favorite city on the Sound is poised to keep you coming back (and back and back) for a whole lot of beautiful noise this summer.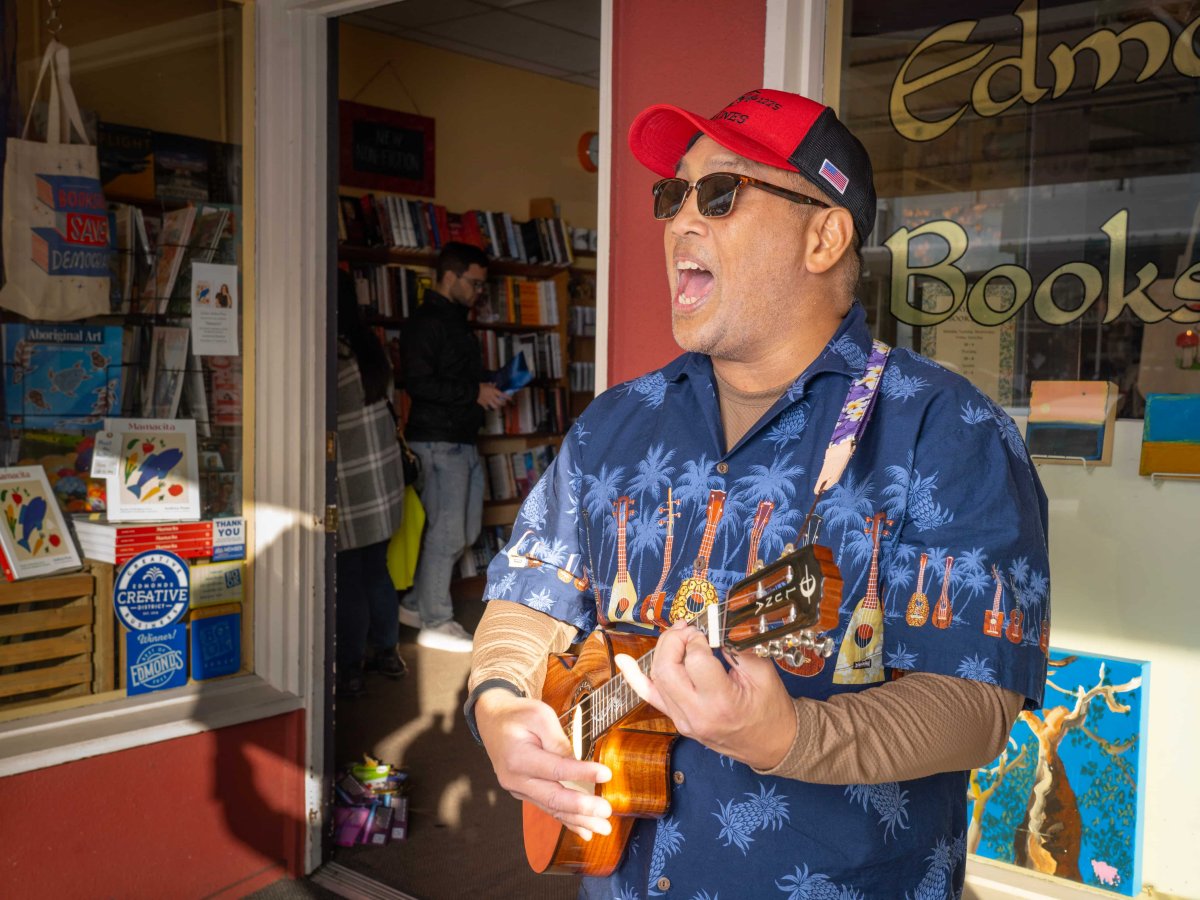 Scroll through the upcoming events below and make sure to return here for a roundup of what's on deck for autumn, including a new annual event, PorchFest. More on that later. We're getting a bit ahead of ourselves thinking about music, so let's stick to July and August for now, shall we? We wouldn't want to overwhelm you.
Taste Edmonds 2023
If you know anything about Edmonds, you know we host *a few* events throughout the year, and one of our biggest is Taste Edmonds.
Get ready for a fun-filled, family-friendly, long weekend full of activities you've come to expect (Food trucks! Live music! Beer gardens!) and new festivities (Corn hole tournament! Axe throwing! Makers Markets for kids and adults!) that will make for an absolutely unforgettable celebration of your favorite beach town around.
This year's event runs from Friday, August 11th through Sunday, August 13th. You can buy all weekend passes or pick particular days. Whatever you decide, you can get your tickets here.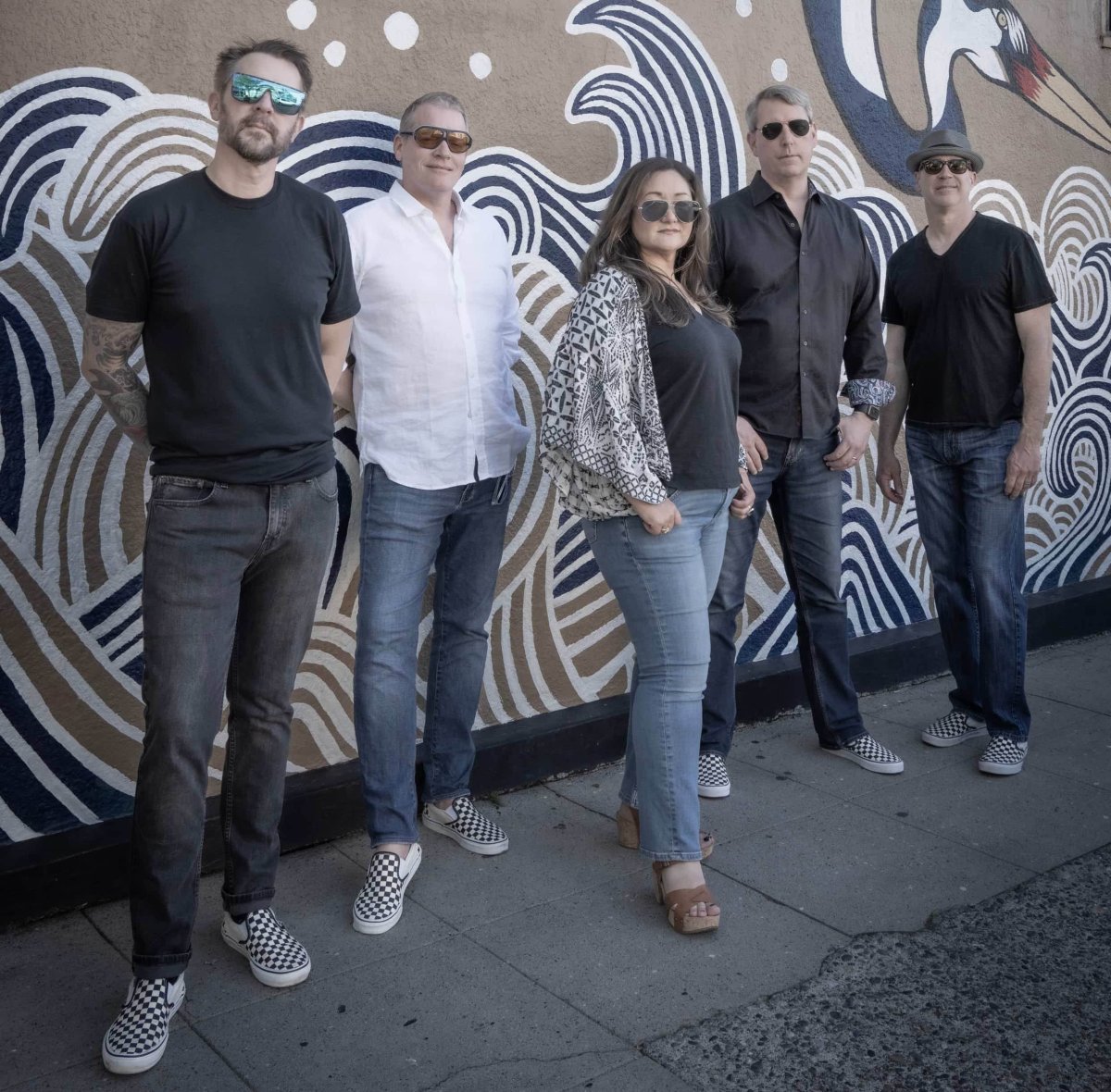 Some of the local star chefs and musicians you might see?
Chef Shubert Ho

Chef Jose Garzón

Chef Ethan Stowell

Nikki & the Fast Times

Nite Wave

Queen Mother

The Band Lele

And more!
Got kids in tow? They'll be in awe when they see the Emerald Sea Sirens and they'll gush to you about all the fun they had with Rock Solid Science. Plus, they'll probably motor around the entirety of the event and get sweaty in the bounce houses with their faces painted, as littles are want to do. We couldn't possibly list out all the activities available in one roundup article, so keep the Taste Edmonds Lineup page on refresh here.
Edmonds Summer Concerts
Sponsored by the Edmonds Arts Commission, the city's annual summer concert series is something locals and visitors alike look forward to all year. Held mid-July through August, these shows feature groups and ensembles from all over the Puget Sound who play at City Park, Hickman Park, and Hazel Miller Plaza.
Check out the lineup and dates below, and mark your calendars for the musical stylings you want to attend!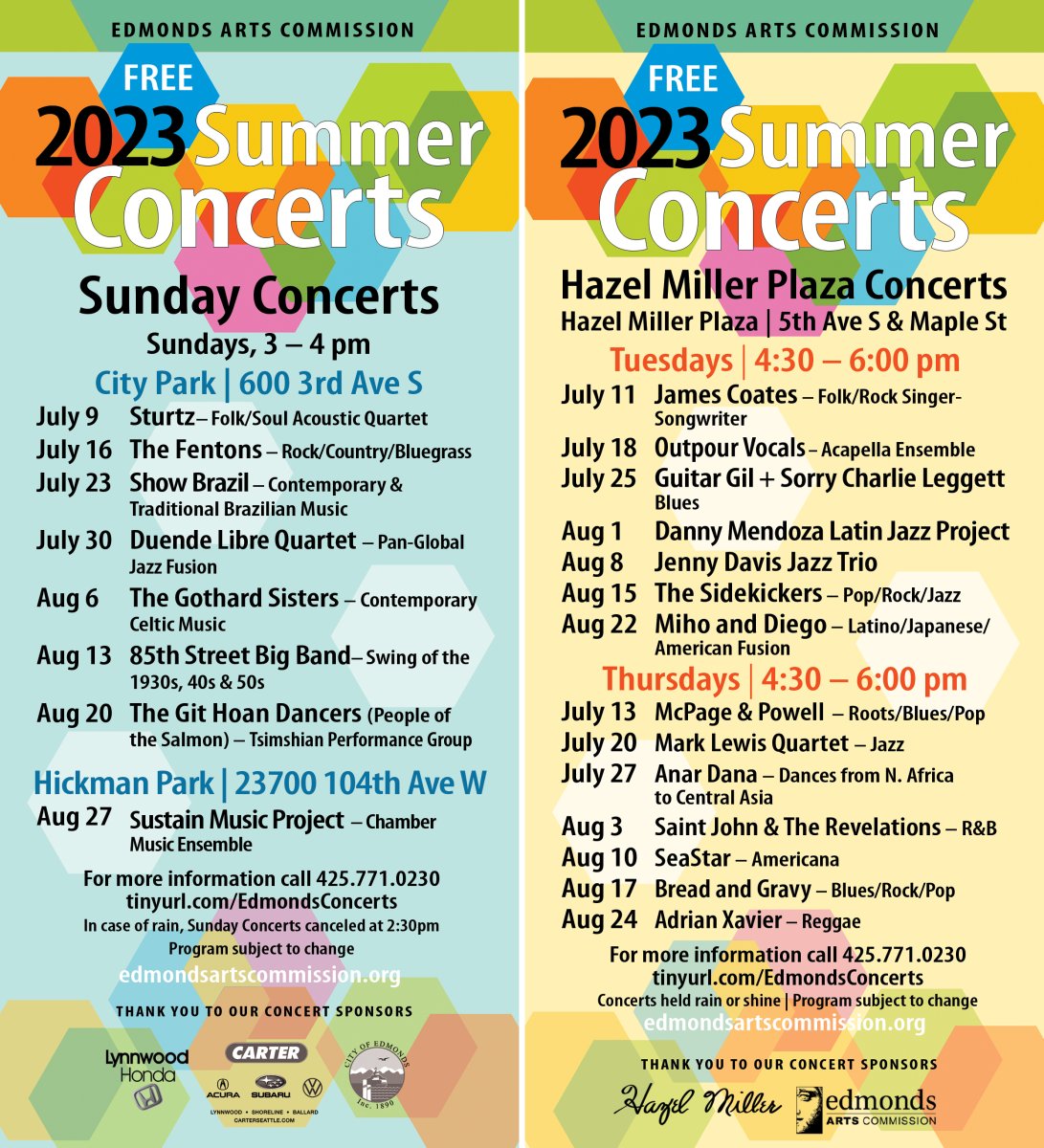 Find more information here.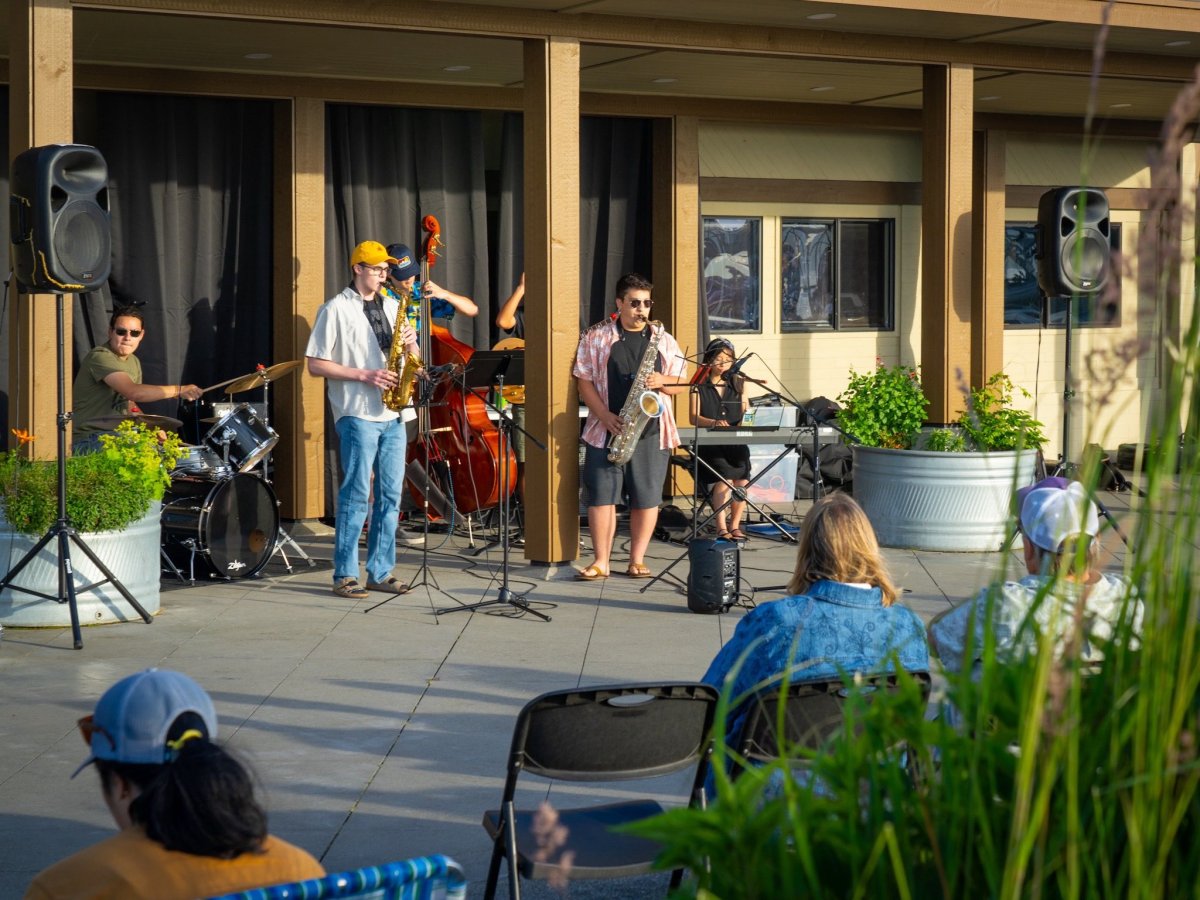 Sea Notes at The Marina
Load up your babes and dole out sunglasses to the whole family before heading to the Port of Edmonds marina for a bevy of free musical performances all summer long. We have Anthony's Beach Cafe to thank for the free music. Make sure to wave hello to them if you come to enjoy the sounds.
You'll hear waterfront tunes from the following groups:
EWHS Jazz Combo Jam, Wednesdays 6-8pm

High School Jazz Combos and Big Band, select Thursdays 6-8pm

Deep Sea Jazz Jam Sessions, Fridays 6-8pm

Night Guitar with rotating musicians Lito Castro and Ross Robinson, Saturdays 6-8pm

Songwriter's Sunday, Sundays 2-4pm
All performers are volunteering their time, so don't hesitate to tip! For the full lineup, including specific dates, click here.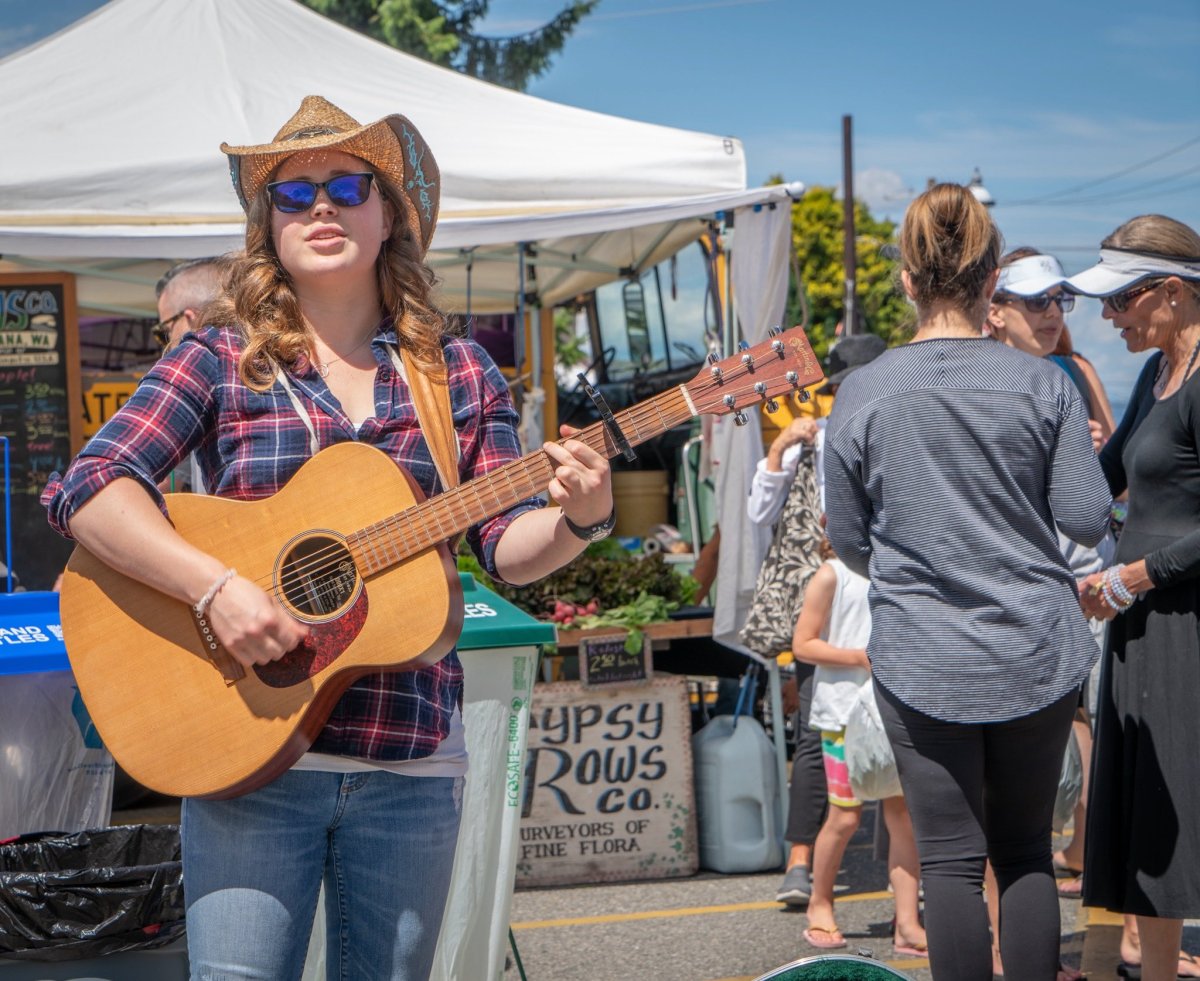 Other Opportunities for Music
If you've visited us in the summer before, you know there are often somewhat impromptu concerts all around town: Musicians plucking strings outside the downtown Starbucks on a Tuesday afternoon, rockers (figuratively) blowing the roof off of Engel's, trios belting with their chins pointed toward the sun at the Edmonds Museum Summer Market, bands rocking the stage at Salish Sea Boat House, and bikers cruising down Sunset singing along to the songs coming from the speakers affixed to their handlebars. Come anytime for a good time, especially if you're in a foot-tapping kind of mood (or want to be). We'll be waiting—and we can promise you a whole lot of music.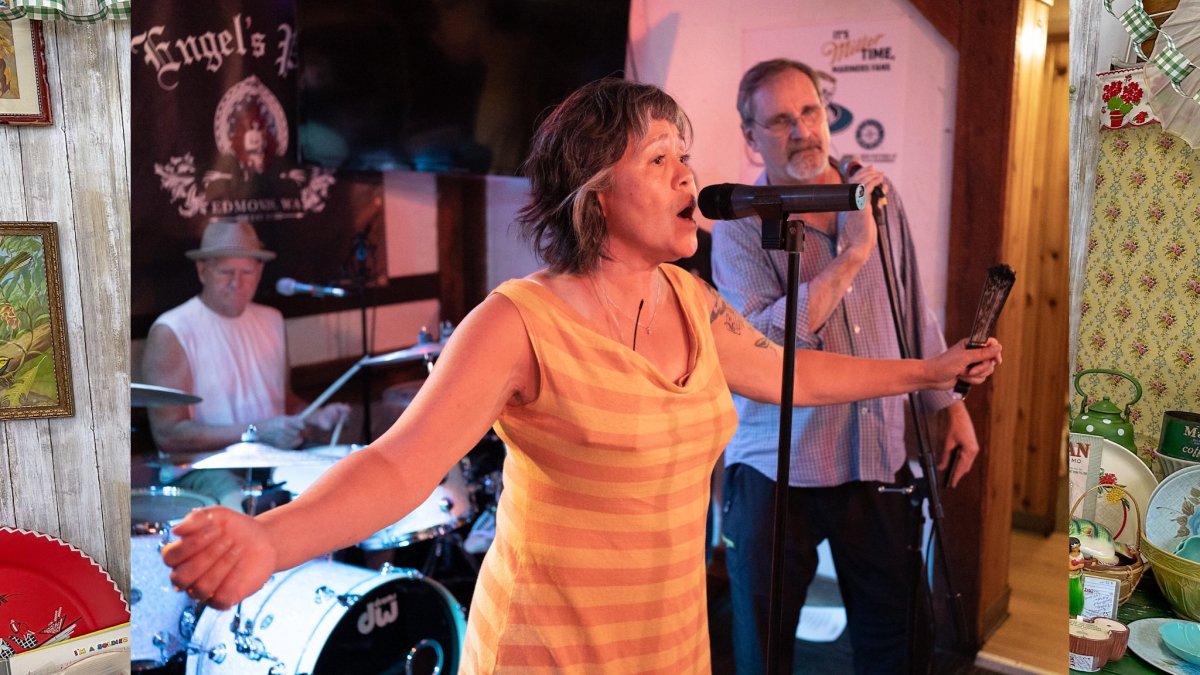 Photos by Matt Hulbert