There is a specific thrill that comes along with treasure hunting, especially if you go into it with an open mind and a very short list of things you need to find. We're talking about thrifting, antiquing, sliding hangers down the racks at consignment shops and filling your arms with vintage wardrobe staples.
Lucky for you, Edmonds has a large handful of all of the types of shops that make even Macklemore's heart race. Hey, he filmed his "Thrift Shop" video at the Capitol Hill Goodwill and has been spotted in our town a time or two. Local celebrities are just like us!
As we all know well by now, in Edmonds treasure abounds. Let's get into it.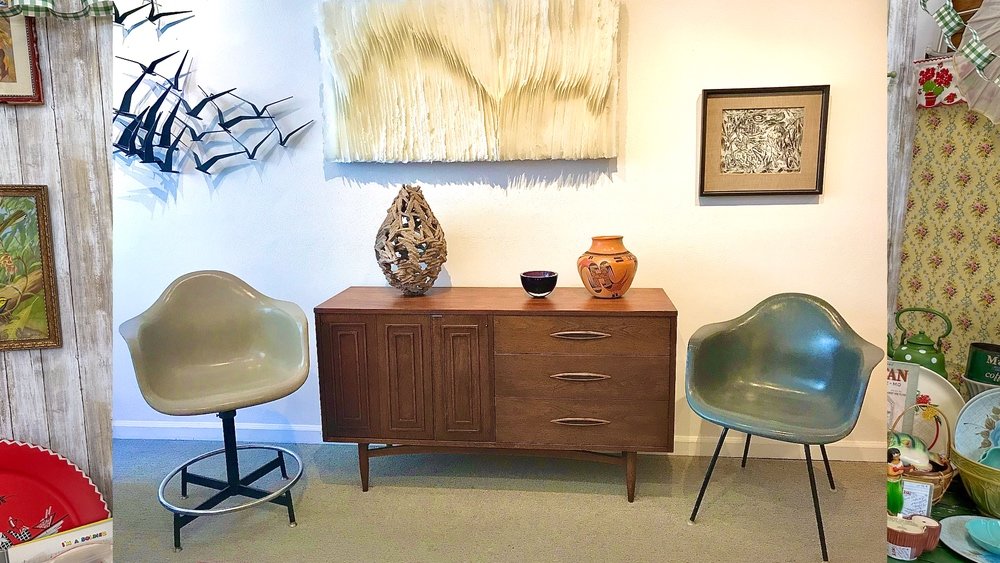 Vintage Furniture
If you're creating a beautiful, eclectic home, especially if you have an eye for mid-century pieces and art that makes you feel something, Driftwood Modern is the place for you to pop into. Open since 2016, Driftwood Modern is the brain baby of owner Hannah Alex-Glasser, who boasts a lifetime spent in the arts. A dancer, sculptor, and design-lover, Hannah puts her heart on display at Driftwood Modern. Make sure to introduce yourself when you come in and come back often to see the original art, furniture, and decorative pieces recently gathered at this beautiful shop right downtown.
The Smith Henry, a newcomer to Edmonds, sources "neat stuff," mostly mid-century furniture. The husband and wife team, Johnpaul and Ashleigh, created a shop in their three-car garage near downtown that you can visit by appointment. Keep up with their finds—and stake your claim on them—by following their Facebook and Instagram accounts closely.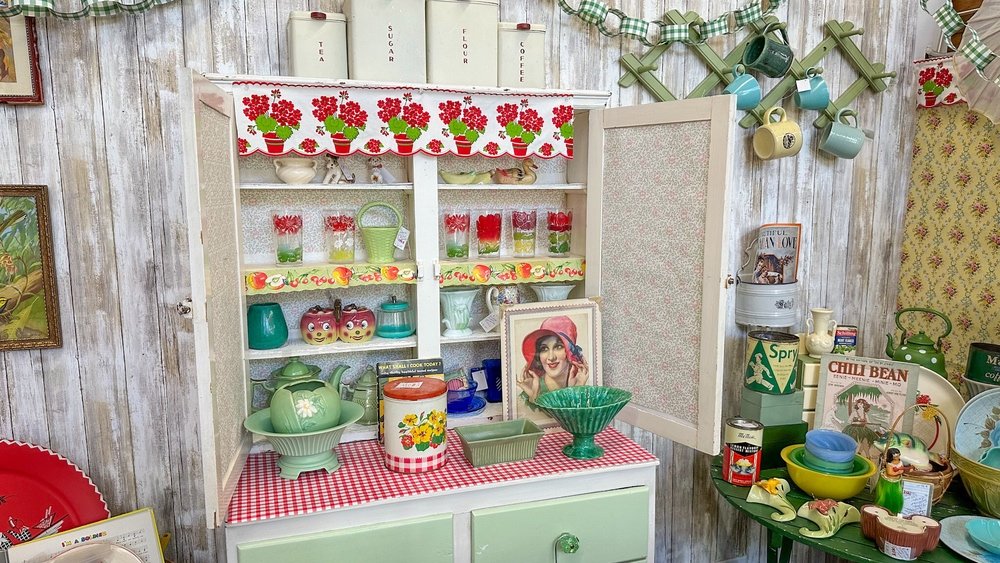 Trinkets, Homewares, Whatsits, and Thingamabobs
If you're looking for a one-stop shop, wherein you could spend the whole day (and more!), head up or down Highway 99—depending on your current location—and into Antique Pavillion. This 30,000-foot showroom hosts over 175 dealers peddling antiques and collectibles. You'll find everything from saddles ridden in the late 1800s to original Olympia beer signs if you bring the right attitude and eye. On top of everything the building has inside, the team behind it also imports 40-foot containers filled with European furniture every 6-8 weeks.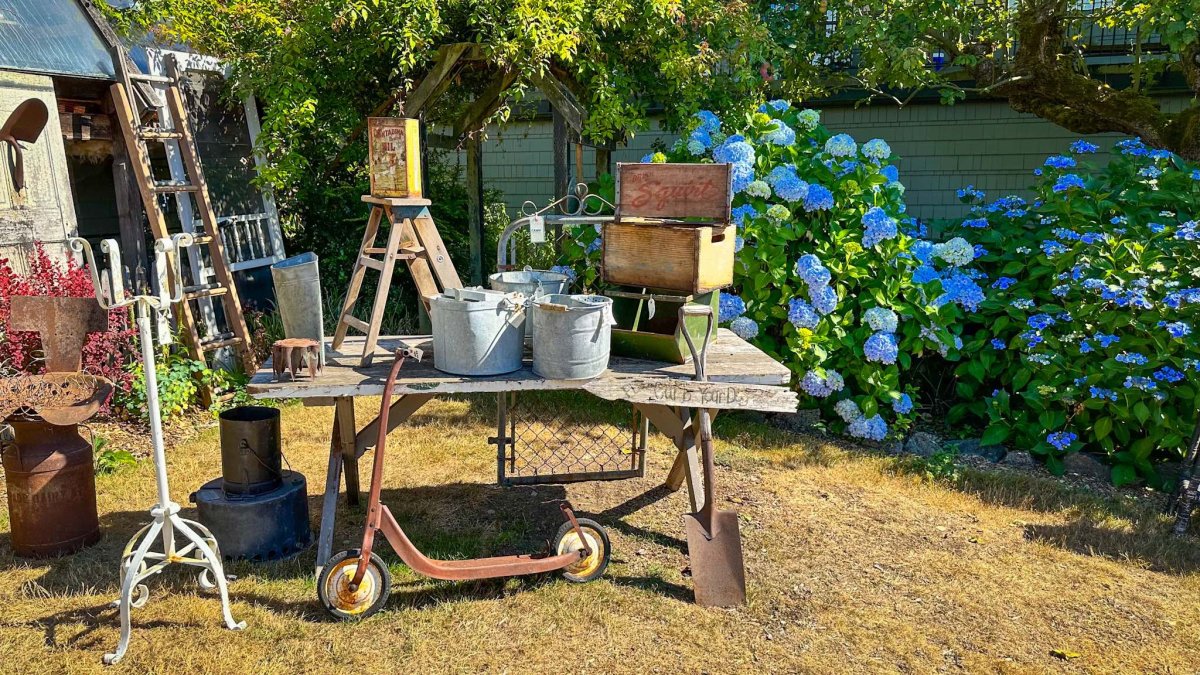 Camp Vintage opened in Edmonds earlier this year on 4th Avenue South. They don't have a website, so keep up with their fun retro wares by following their Instagram page. Nab an original Stanley canteen (the pastel varieties certainly don't look like they used to, do they?), vintage Seattle sports memorabilia, gilded tea sets, and more. Owners Logan and Christine Harris brought their personal stock of goods into the shop and wake up early many days of the week to sift through local estate sales and the like, so we can assure you you'll never visit the same Camp Vintage twice.
If you are a frequent thrifter, you have your spots, and the Edmonds Goodwill is a spot for many treasure hunters from all around. Beautifully maintained and stuffed to the gills with all the things you didn't know you needed (and probably some you knew you did), it's a great place to build into your itinerary, especially if you're on your way to the ferry. As a bonus, the store often runs special tag days that they advertise on their website. You can even sign up for texts to be the first to know about them! And, if you'd like to peruse before you stop in, you can shop online here.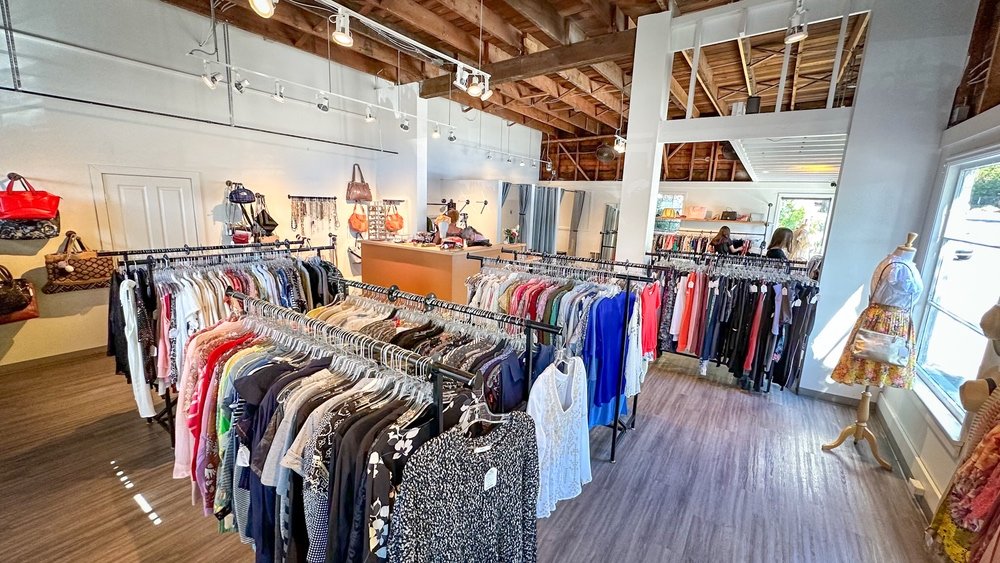 Consignment Clothing and Apparel Thrift Shops
If you love participating in the circular economy (and why shouldn't you? It's great for the world, and for your wallet), Edmonds has a small handful of fabulous clothing consignment shops for the whole family. Start at Anchor Chic Consignment on Dayton to get your fix of vintage and designer items curated by the trained eye of owner Liz Le. As she says on the shop's website, "With more than 100 items arriving daily, even the choosiest shopper is sure to find something they love."
Interested in outfitting the kids? Head to City Kids Consignment on Edmonds Way. Owner Tracy stocks clothes, equipment, furniture, shoes, toys, and books for kids from newborn to size 14/16. She even has a rack of clothes for mom!
Back downtown, get the guys in on your shopping game at Pear Tree Consignment on 5th Ave S. Owner Christine promotes slow fashion for men and women, expanding the lifespan of clothing that may not fit you or your current lifestyle, but will be well-loved by someone new. As with all the best shops selling pre-loved items, the selection changes daily, so make sure to stop in often to keep up with the latest.
And with that, bargain hunters, treasure seekers, and eclectic collectors, we send you off to explore, to discover, and to bring new life to something meant to find you. Any journey to one of these places is sure to be a fun adventure, so take us along by tagging @exploreedmondswa in your Instagram and Facebook posts. We'll be waiting to ooh and ahh over your bounty!
Photos by Matt Hulbert