Exploring the Edmonds pizza scene is many things: very fun, a little bit bloating, and undeniably delicious.
Like much of the eating out experience in Edmonds, the breadth and depth of meat and veggie pies smothered in dairy and sauces have exploded in the past few years. This carb-loaded expansion has resulted in options from Firdale Village to Esperance and everywhere in between. It's certainly made hosting a party a whole easier. And, it's time to explore the current scene, as it were.
So, pull out the plates and prepare the slicer or start Googling some addresses—you're going to be ordering a pizza from one of these hot local ovens probably even before you're through reading about them.
Firdale Village
At Venice Pizza & Pasta, start a debate about fruit on pizza by ordering a Tripoli (Canadian bacon, pineapple, and cheese) or add some unexpected greens with the Berona (broccoli, chicken, and fresh garlic with white sauce). Their House Special is loaded with mushrooms, green peppers, onions, black olives, feta, mozzarella, fresh garlic, diced tomatoes, and spinach topped with shredded pepperoni (whew!).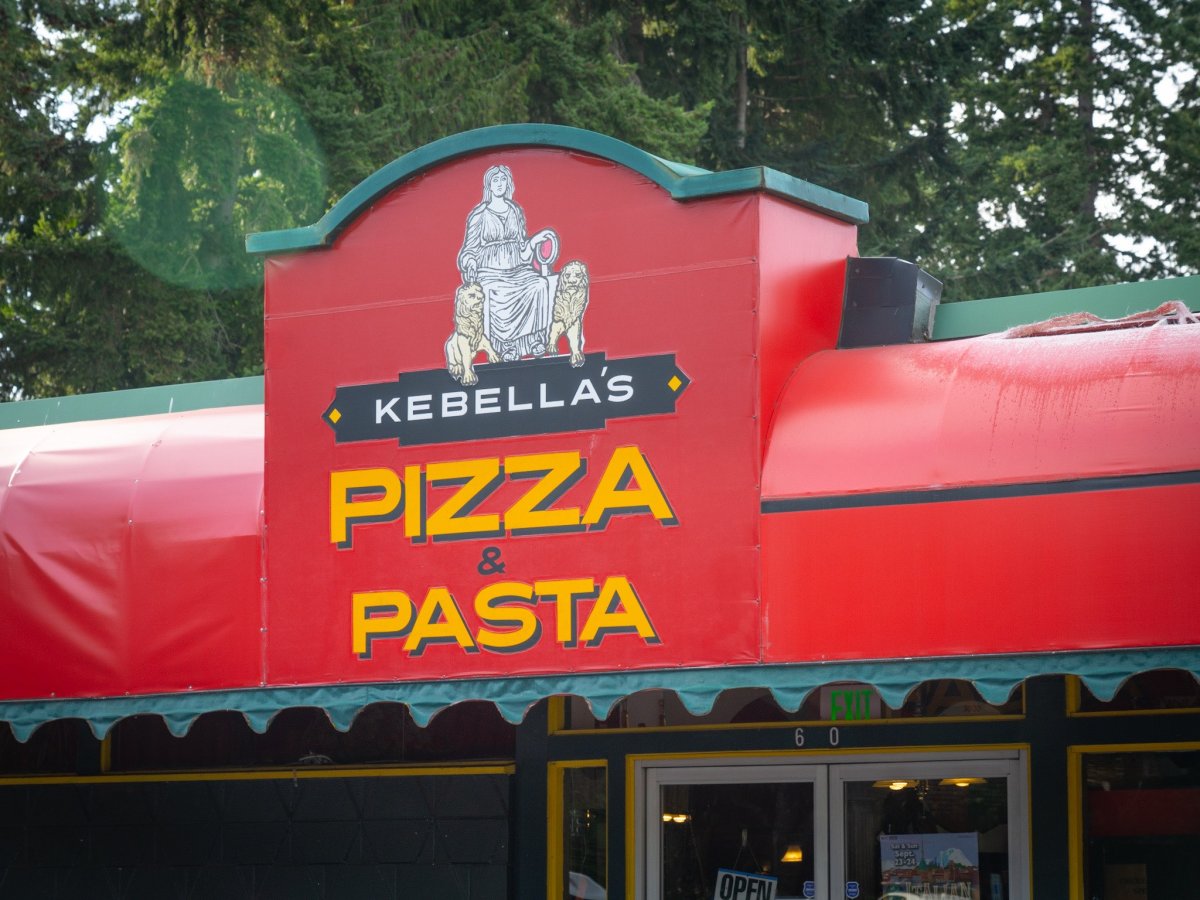 Westgate
FIVE Restaurant offers personalish-sized pies with topping combinations you'd expect (pepperoni, margherita) and some you might not: Bartlett Pear (gorgonzola, toasted pine nuts on dill pesto) and Carne Asada (serrano peppers, cilantro, red onion, and provolone). Order two to share and don't forget to ask if they're offering a special.
Why not explore Greek influence on your Italian pies? Kebella's Pizza & Pasta's The Greek Pizza boasts onions, tomatoes, Greek feta cheese, Greek olives, and Greek gyro meat. It's smothered with mozzarella and topped with their homemade Tzatziki sauce. Got anchovy fans in your house? Spring for the Hios, which is topped with pepperoni, anchovies, green peppers, tomatoes, and Italian sausage.
At PCC, call ahead to order a whole pizza, grab and go home with a take-and-bake, or point to a piping hot slice from the deli counter. Whatever you choose, you can rest assured that each 'za, regardless of its current temp, is made fresh daily.
If you spent your 20s ordering from Pagliacci at all hours of the day and night, including walks to various slice bars in Seattle (Just this writer? Bet not!), you might have their popular menu memorized already, especially if you're veggie-forward. The AGOG Primo (Tomatoes, mushrooms, roasted garlic, Kalamata olives, goat cheese, fontina, mozzarella, and parsley over olive oil) is drool-inducing. Don't sleep on their specials, either—they're always inventive and fantastic!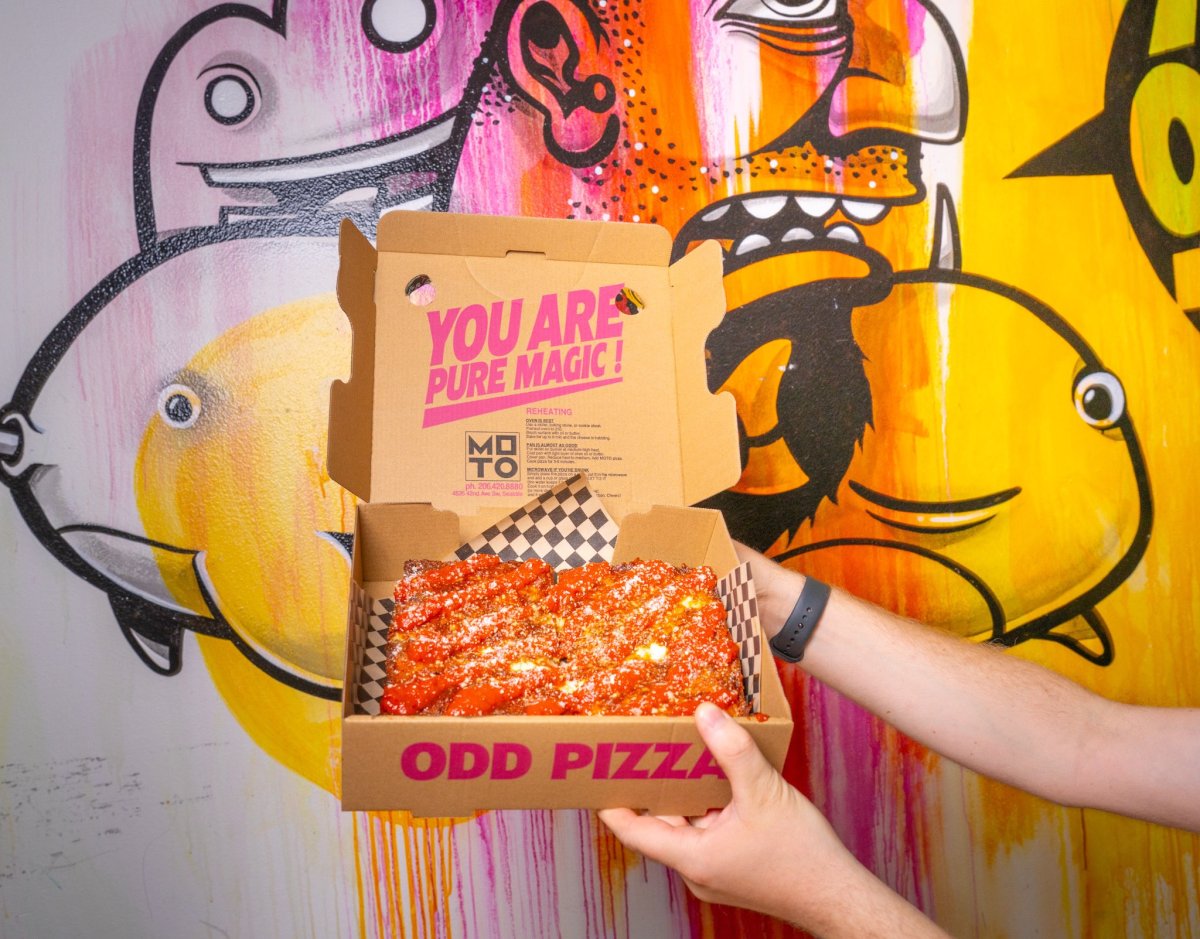 Downtown
Tomato jam fan? What about on pizza? If you love it already or are simply in a life place of *remaining open,* try the Pepperoni & Tomato Jam Pizza (pepperoni, mozzarella, spicy tomato jam, garlic confit) from Fire And The Feast. Or, get your greens in with their Prosciutto Arugula Fig Pizza (prosciutto, arugula, fig, fontina, mozzarella, olive oil, Maldon salt, and fig balsamic). Va bene!
Already poppin' in Eastlake, Johnny Mo's is opening a welcome second location of its popular pizzeria in the Main Street Commons this month. Choose between New York and Chicago-style pies and explore refreshed takes on classics (Niña's Old World Margarita—mozzarella, dollops of homemade sauce with imported tomatoes, and basil, drizzled with extra virgin olive oil) while adding something new to your go-tos (Bethany's Special—mozzarella, homemade sauce with imported tomatoes, topped with roasted garlic, pineapple, and pepperoni). Keep your eye on their Instagram to keep tabs on their exact opening date.
Interested in exploring even more cultures in your pizzas? MOTO combines what they call "a delightfully odd mix of Detroit, New York, Roman, and Filipino goodness" on their square pies. From Beef Adobo (beef adobo, MOTO cheese blend, pickled cabbage kimchi, garlic sauce, pepper, black sesame seeds, and cane vinegar) to the popular Mr. Pig (Lechon kawali—Filipino pork belly—spicy pork sausage, Onion, MOTO cheese blend, topped with calamansi lime sauce and MR PIG sauce) it's no surprise this downtown hot spot sells out months in advance.
Transport yourself to an Italian al fresco moment when you take your pizza by the slice or the whole from Vespucci's portable brick oven at the Edmonds Summer Market. You can't get this pizza in town all year, so stop by to see Sam and his crew during the months you can. Once you try it, you'll be justifying pizza for breakfast every Saturday from May through October. Trust us on this one.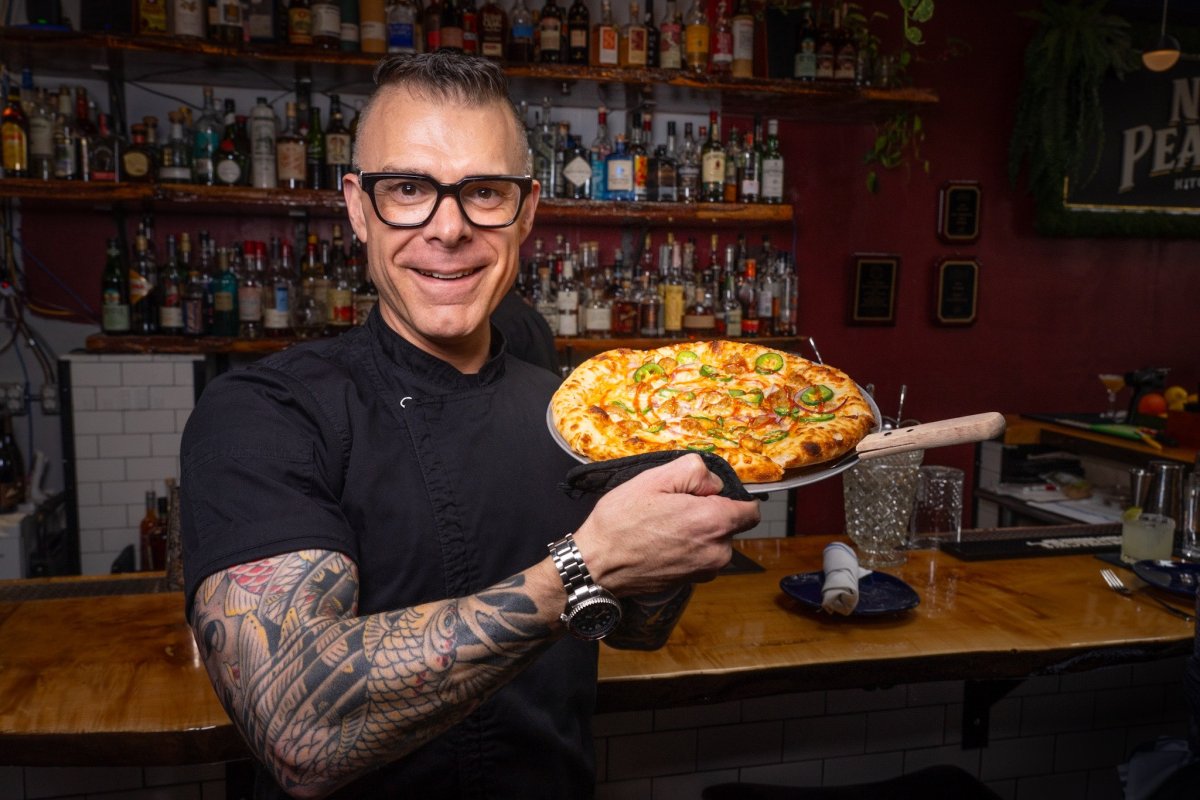 Salish Crossing
Nile's Peacock Kitchen & Bar is interested in doing two things really, really well: pizza and cocktails, and they consistently hit both out of the park (if Salish Crossing were a park. You get it.) The restaurant's sourdough crust recipe was shared by the owner of Sourdough Willy's across the water and the proportions of toppings to sauce et al are perpetually perfect. Get a classic cheese if that's your style or go all in on something uniquely Niles like The Brussel Wilson (olive oil base, mozzarella, roasted Brussels sprouts, bacon, parmesan, and reduced balsamic glaze) or Stranger Things (marinara, mozzarella, pepperoni, fresh jalapenos, pineapple, and mushrooms). And don't forget to place that drink order!
Lower Bowl/Olympic View Drive
Get back to your classic combo roots at neighborhood-favorite Portofino by ordering their Combo Special (pepperoni, Canadian bacon, mushrooms, black olives, green peppers, seasoned ground beef, and mozzarella). Veggie eater who still wants to get in on pizza night? Order a Vegan Pizza (spinach, onions, roasted red peppers, and vegan mozzarella).
The 76th Ave Corridor
Find more Greek influence at Romeo's Pizza Kitchen, where you can order a Yianni (pesto, mushrooms, lemon roasted chicken, garlic, and feta) in the same breath as a Sicily (pepperoni, Italian sausage, Canadian bacon, and salami). With the added option to build your own, there are endless pizza options here.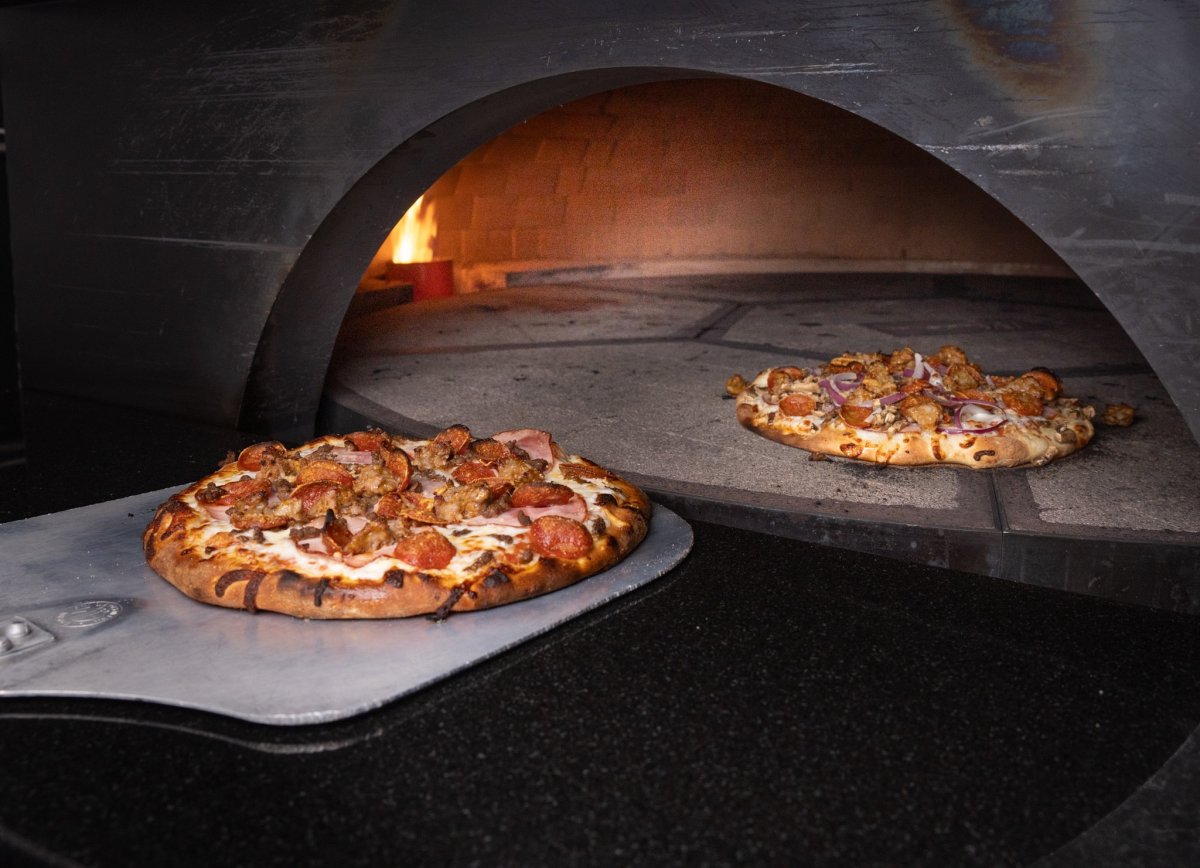 Perrinville
Perrinville Brick Oven Pizza tosses pies with classic toppings and offers both gluten-free and cauliflower crusts. Whether you build your own or choose from one of their suggestions, you'll certainly get your pizza fix here.
If you've gotten this far, we're seriously impressed and assuming you dipped in and out while you ordered, ate, and decided where to go for your next pizza night. For us, that night might be tomorrow.
Let's divide and conquer the whole city! Show us where you're grabbing your next 'za! Tag us in your social posts so we can see all the mouthwatering meals you're enjoying around town. We're @exploreedmondswa on Instagram and Facebook.
Viva la pizza!
Photos by Matt Hulbert